We are watching our local and state officials, CDC guidelines, and continue to ask for your understanding and support as we shift programs and services.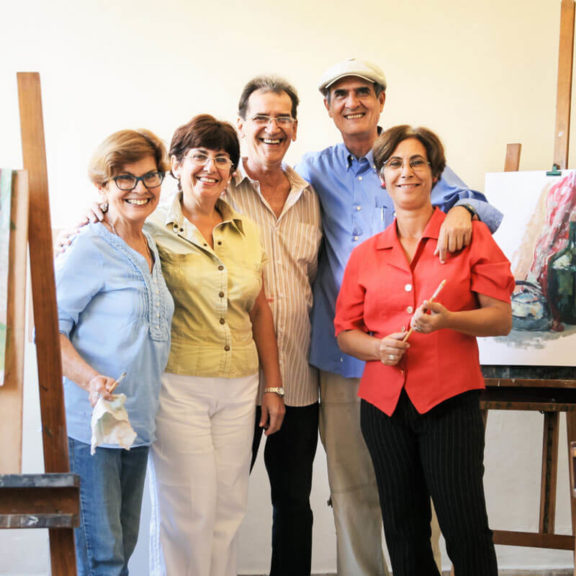 LEARN HOW WE CAN HELP
The goal of FiftyForward is to assist Adults 50+ in Middle Tennessee to live longer, more fulfilling lives through innovative programs and services. Committed and compassionate staff, volunteers and partners form a powerful leadership team positively impacting older adults, their families, and the community.
If you know of an older adult in need,
please call us Monday-Friday at 615-743-3416.
The best way to help older adults at this time is to donate online so we can provide food, services, and support to those who need them most.
VISIT OUR CENTERS
At seven FiftyForward locations, five in Davidson County and two in Williamson County, members enjoy classes, activities, events, trips, and projects focusing on education, health, recreation, and volunteer opportunities.
VIRTUAL Programming available, please visit your center's Facebook Page below.
At FiftyForward, as we support and champion adults over fifty, we also support and champion the differences among us. We welcome and celebrate those differences and are committed to creating an inclusive environment where everyone thrives.
TESTIMONIALS
I would like to take this moment to thank you for the call I received last week regarding my health, wellness, and whether I need help in any way. This act of kindness is truly a hallmark of what this organization is all about. I thank you so much … keep up with the sterling services you provide.
Being a member of FiftyForward Bordeaux since October 2018 has been amazing. I've learned a lot about the program and its diverse services for members, staff, volunteers, and guests who are seeking to put their talents adept skills or abilities to good use in the community and also contribute to the tranquil ambiance of the center's location. Consequently, I sincerely appreciate the comraderies because I've become less introverted.
FiftyForward Center Member
I am glad we have such a fabulous center. I love going there and socializing.
FiftyForward Center Member
Our FiftyForward Friends Learning in Pairs (FLIP) volunteers provide much more than just academic support: they build relationships, encourage and inspire our students to be leaders.
Fall-Hamilton Enhanced Option Elementary
Previously I was eating fatty foods, this (FiftyForward Fresh/Meals on Wheels) changed my diet. Now I eat more vegetables and wholesome foods. I appreciate the people who take time out of their day to deliver this service.
FiftyForward Fresh/Meals on Wheels Recipient
I am a full-time caregiver for my mother and the center gives me fun times with small acting groups.
We are honored to be a national partner in this NIH Effort.
Embrace this
season of life
©2020 Fifty Forward, 174 Rains Avenue, Nashville, TN 37203 | (615) 743-3400 | Fax: (615) 743-3480 | WordPress by Nashville Geek